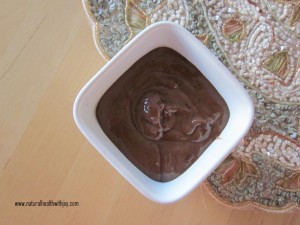 Chocolate spread
Simple Homemade Healthy Chocolate Spread 
Sugar-free without additives
Commercial chocolate spreads contain harmful refined low quality vegetable oils, sugar and additives. Hazelnut naturally contains good fatty acids. You can easily make a tasty one at home.
Especially in the morning for breakfast or snack a sugary food is not an appropriate choice for children than need to focus at school or gain energy for mental or physical activities during the day, Moreover sugary food from early age make children addicted to more of it and ruins the taste buds for more natural tastes of vegetable and fruits.
Brain needs healthy fat not sugar to develop and grow which nuts and seeds provide that and fresh dates can take care of sweet taste and fiber.
Ingredients:
• 3 tablespoons unsweetened raw Cacao powder
• ½ cup pitted Fresh Dates
• 1 cup natural Tahin (the only ingredient be sesame seeds)
• half a cup raw Hazelnuts (or pistachio, cashew, walnuts)

Directions:
Soak the hazelnuts in water over night. Empty the water and roughly crush them in food processor or just chop them coarsely. Soaking the nuts is needed to decrease the phytic acid that prevents the absorption of some minerals like zinc.
You can mix everything in the food processor to have a creamy texture.
Or you can mix everything except from hazelnuts and fold them in at last.
You can keep it in the fridge for 5 days.
In case of allergy you can skip the nuts.