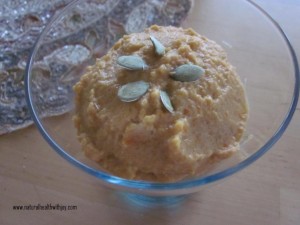 Pumpkin Pudding can be enjoyed as a treat or a nice breakfast, since it is nutritious and anti-inflammatory.
Ingredients:
¼ of butternut/pumpkin
½ teaspoon turmeric
½ teaspoon cinnamon
½ cup coconut milk/ coconut oil/ any other milk nut
¼ cup raw walnuts/ raw pumpkin seeds/ raw pistachio
2 teaspoons tahin (optional)
1 fresh date (optional)
Directions:
Bake the pumpkin in a 180 degrees oven for 20 minute until soft.
Add all the ingredients to food processor and puree it.
Add some nuts or seeds on top of it for some crunch.
It can be served either warm or chilled in refrigerator after 2 hours.
* By adding 1-2 teaspoons raw cacao, you`ll have chocolate pudding in which case 2 or 3 dates can be added.