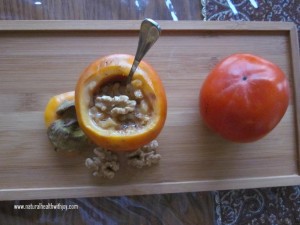 You can treat yourself and get your nutrients at the same time.
Ingredients:
1 Persimmon per person

2 coffee spoons Tahin

¼ teaspoon Cinnamon

2 raw Walnuts/ 10 raw pistachio/ 10 raw pumpkin seeds

Half a teaspoon Turmeric

1 fresh Date / 5 currants
Directions:
Gently cut the head of the persimmon and empty it with a teaspoon. Set the empty persimmon aside for later.
Add all the mentioned ingredients in addition with persimmon flesh to food processor or blender.
Fill the empty persimmons with the puree.