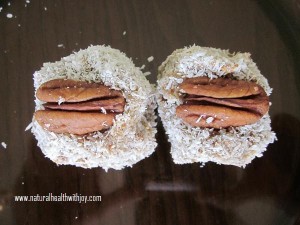 Basloogh is a Persian dessert ( eastern-delight ) made with starch and sugar and the ingredients will be heated. But the great thing about this recipe is that it does not involve any heat or starch, however it tastes the same and provides nutrition.
Ingredients:
• 250 grams Dried figs
• 2 tablespoons Rose water
• 1/4 teaspoon ground Saffron
• shredded coconut
• 10 pieces of Walnuts/pecans
• Juice of 1 small tangerine
• 1/8 teaspoon Cardamom powder
Directions:
Add the saffron to half a cup boiled water and let it brew for at least half an hour by covering top of the cup.
Soak dried figs in saffron, tangerine juice and rose water over night.
Puree the figs with the liquid and cardamom in food processor.
Scoop the batch with coffee spoon and shape them into balls.
Then roll them in the shredded coconut and press gently 1 piece of walnut on each.
Fridge for at least 2 hours before serving.