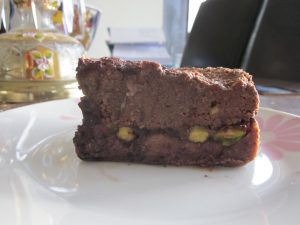 Cherry pistachio cheesecake (without dairy or sugar)
Simple no bake cheesecake with chocolate and dairy, gluten and sugar free.
Base:
1 cup coconut rasped
3 tablespoons pure tahin or sesame paste (without additives just sesame seeds)
5 fresh dates (otherwise soak them in water till they get soft)
Mix the dates in the food processor then add the rest and make a dough.
Line a spring form of 18 centimeters with parchment. Spread the dough in the cake form.
Handful of raw pistachios
15 cherries
Cut the cherries in half and cover the cake base with the cherries and pistachios. Press them gently. Place it in the refrigerator.
Topping:
3 tablespoons coconut oil
2 tablespoons coconut milk
1 cup raw cashews soaked overnight and drained
7 dates (otherwise soak them in water till they get soft)
2 tablespoons raw cocoa powder
60 grams 80% chocolate
Handful of raw pistachios
1 Vanilla bean
Scrape the vanilla out of the bean.
Melt the chocolate bain marie style.
Blend all the ingredients in a food processor.
Pour and flatten the mixture on the base and place it in the freezer for at least 4 hours.
Bring out of freezer 15-30 minutes before serving.
Soaking nuts before use is needed to neutralize the anti-nutrient phytic acid present in them which blocks the absorption of zinc, calcium and iron.